Valentine's Day

-
An annual commemoration held on 14 of February celebrating love and affection between two persons.
M
any have different opinions for this day for various reasons. One of the comments that I hear over and over each year is that "It is a day just so the shops can make money."  Or, "I don't need a day telling me to love my gf/wife when I already do."
While that may be true, I beg to differ.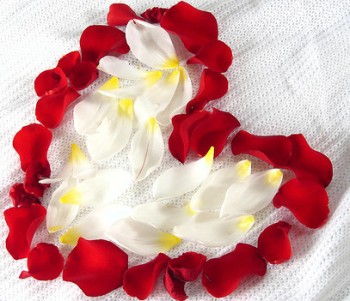 I think it's a beautiful concept to go out of his or her way to do something special and romantic for the person they love. Of course you should show love to your partner each and every day, but I love the idea of  something out of the daily routine, something extra ordinary that Valentine's Day symbolize.


How many of us regularly go on "date nights"? A candlelit dinner with soft music playing in the background? Receiving/writing a romantic letter, or a card?   
Valentine's Day doesn't have to be all about teddybears, chocolates, mushy greeting cards, and spending a lot of money. (Although, that is nice too :) )
How about a hand written card? Cooking at home with your love?  Followed by great sex?
I love planning creative ways to surprise my man. That's the fun of it!

And plus... I get a chance to fall in love with him all over again. :)
I say long live Valentine's Day!
Valentine's 2009

On the night before Valentine's Day,
I crawled into bed and saw him holding the flowers,
and the bag underneath the blanket!! :')
What a sweet surprise!

He had no idea I had a nice little game for him in the morning.
I hid small notes inside each balloon all of the reasons why
I love him.

Cooked him a nice V-day lunch.

In the evening, he said he wanted to go for a drive, then
took me to this restaurant to have dinner!
Wow, Valentine's day to the fullest!

Valentine's Day 2010
I love to bake! This time, with extra love :)
I don't have a heart-shaped pan so I had
to carefully cut the cake!
Valentine's Day and Carnival overlapped, so it was
a lot of fun crammed in one day! :)